✽ To view a website, click on the screenshot.
Schubert Theatres
Features:
Responsive Design
jQuery Slide-show
PHP: Employment application form that forwards data via email to the employer
PHP/MySQL: Custom-built web application to manage movie info inside a database
E-commerce: Purchase gift cards using PayPal
Facebook Like Box Widget
Schubert Theatres
The official website for the Hartford Theatre and Luxury 10 in Beloit, WI. It's a custom theme that is mobile-friendly and was built from scratch, and all graphics have been created by us as well. One nice feature on this site is the ability for customers to purchase gift cards of various amounts online. There are also forms that allow users to conveniently submit feedback or fill out an employment application. The "Showtimes" page, created using PHP, grabs the XML data, caches it, and properly displays the information in an easy to read format for customers. This website holds a special place in our hearts and we have very much enjoyed maintaining it over the past few years.
---
Custom Web App Demo (PHP/MySQL)
Custom Web App Demo (PHP/MySQL)
This is a demonstration for a custom web application to manage movie information inside a database that we built for Schubert Theatres. There is a YouTube video rather than a link to a website for this one as it requires an administrator login to view it. In this demo, you can see PHP and MySQL being put to use to create, modify, review, and delete information in a database.
---
Colvin Consulting
Features:
Powered by WordPress
Easy Website Management
Responsive Design
Slideshow
Contact Forms
Social Media Connectivity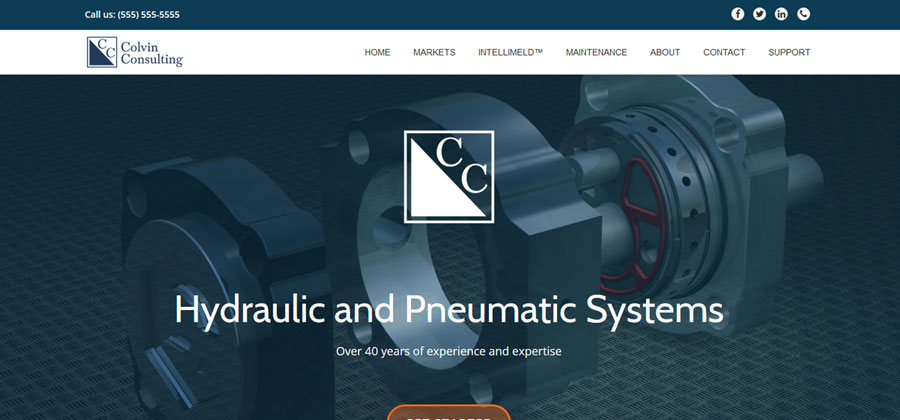 Colvin Consulting
Since the website is built from a WordPress theme, our client has the ability to personally edit the text on nearly every page. Like our other WordPress websites, there are many aspects of the code that have been customized for our client's needs. Although this site currently has filler text in certain areas, it is completed on our end. We feel the site showcases how a WordPress website can be an excellent professional option for a business.
---
Mama Pan Coaching
Features:
Responsive Design
jQuery Banner Slideshow
Facebook Plug-in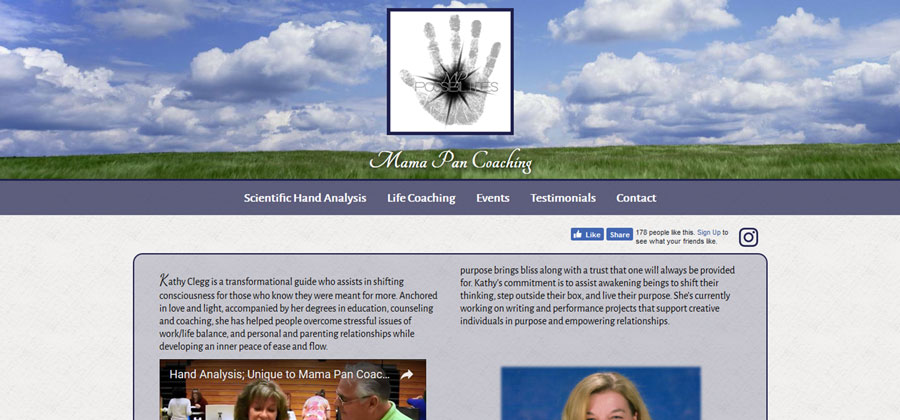 Mama Pan Coaching
The website for Kathy Clegg's life coaching business - this site is mobile-friendly and will respond accordingly whether you use a tablet or a smartphone. One of the aspects of this website that we are most proud of is the slideshow banner at the top of the page behind Kathy's logo. Each banner sets its own unique tone, filling the site with positive energy!
---
Three Threads and a Bobbin
Features:
Powered by WordPress
Easy Website Management
Implementing Etsy's API
Contact Form
Responsive Design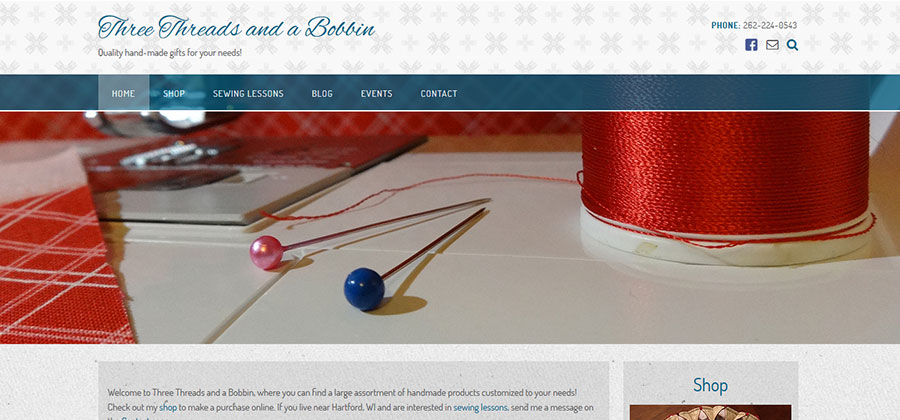 Three Threads and a Bobbin
Three Threads and a Bobbin is a website we recently created for a client's new crafting business. It is made from a theme that was customized by us and is powered by WordPress, allowing our client to edit the text on the pages and well as create events on the calendar page. We added a "Shop" page which is linked to the products on our client's Etsy page using Etsy's provided API. This means that any product that is added to her Etsy page will also show up on her website. This allows her to give potential customers the domain to her own website while still retaining the marketing benefits of having an Etsy page. This site is mobile- and tablet-friendly.
---
The Weatherly Group
Features:
WordPress
Mock-up Development
Rollover Images
Bug Fixes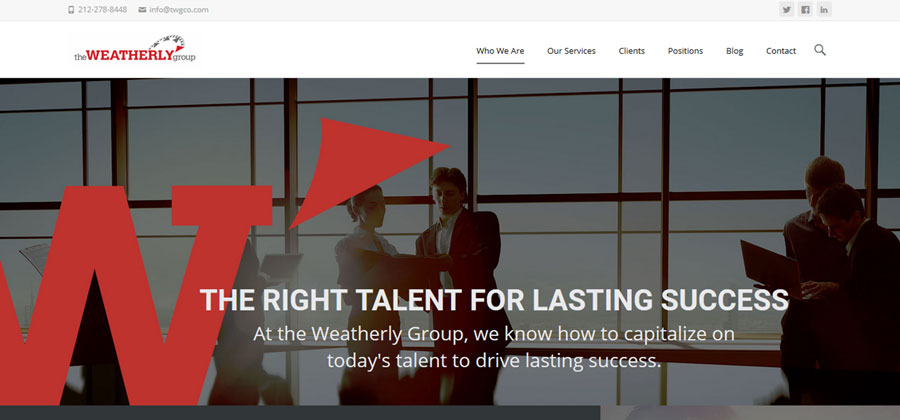 The Weatherly Group
One of many websites we've worked on with Janet Fazio Advertising. The Weatherly Group demonstrates our ability to create a mobile-friendly home page based on a mock-up provided to us. It is almost an exact replica of the mock-up, save for a few minor improvements that were made during development. Other websites we have assisted Janet Fazio Advertising with include Semper Fi Foundation, Devil Mountain Run, Dog's Love Woof, and The Taylor Family Foundation. Work on these sites consists of fixing bugs, improving functionality, and modifying styling.
---
Optimal Oral Systemic Solutions
Features:
Maintenance
Bug Fixes
WordPress
Email Set-up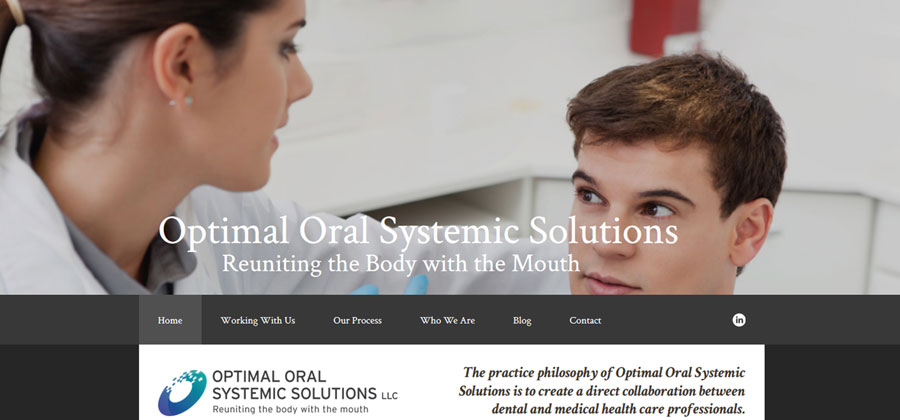 Optimal Oral Systemic Solutions
Optimal Oral Systemic Solutions is an innovative company that specializes in preventative care for oral hygiene. The WordPress website is not one which we have built ourselves, but we have taken over the regular updates. We have modified the content on nearly every page, set up domain-based email accounts, and fixed bugs that were causing styling issues.
---
WTB Vehicles
Features:
PHP: Carries data over multiple pages and uses it to generate customized emails. Try it out!
jQuery Alert Box
JavaScript Box Slider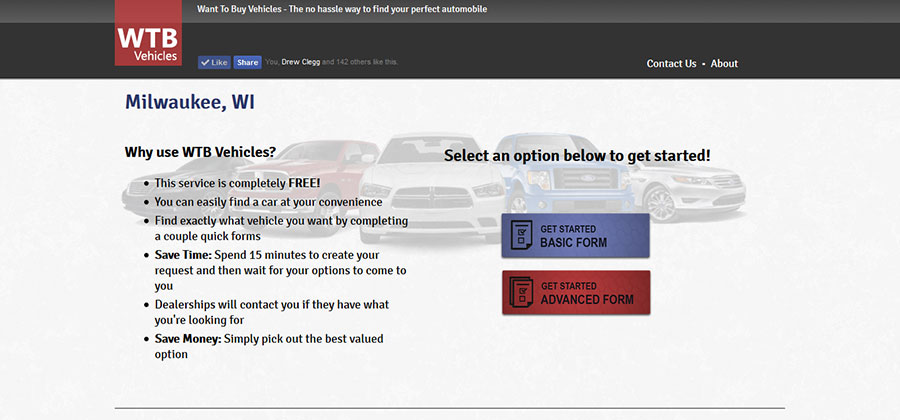 WTB Vehicles
WTB Vehicles was a web project created back in 2014 that eventually got put on hold due to time constraints. The design and functionality was developed by us. The purpose of this site was to help users find a car within their area quickly and conveniently. Users would fill out a form with details of their "dream" car, and the information would then be sent to all the dealerships in the area as a request and sales lead. If you fill out the form and put in your email address, a receipt/confirmation will actually be sent to you. Keep in mind - the site was a work in progress.
---
St. Veronica's 40th Reunion
Features:
JavaScript: Parallax Scrolling
Form/Email Generation
Responsive Design
jQuery: Google+ Gallery
St. Veronica's 40th Reunion
The website for St. Veronica's 40th year reunion celebration. My favorite part of this website is the use of parallax scrolling on the main page. When you scroll down, you will see old photographs spill out of the envelope. This site is also mobile-friendly, though the parallax scrolling is not present when viewed on mobile devices as is difficult to render on most phones and tablets. The gallery uses Google+ to display photographs, making it easy to update them.
---
Davis Dentistry
Features:
WordPress Customized Theme
Responsive Design
CSS3 Coin Flip Effect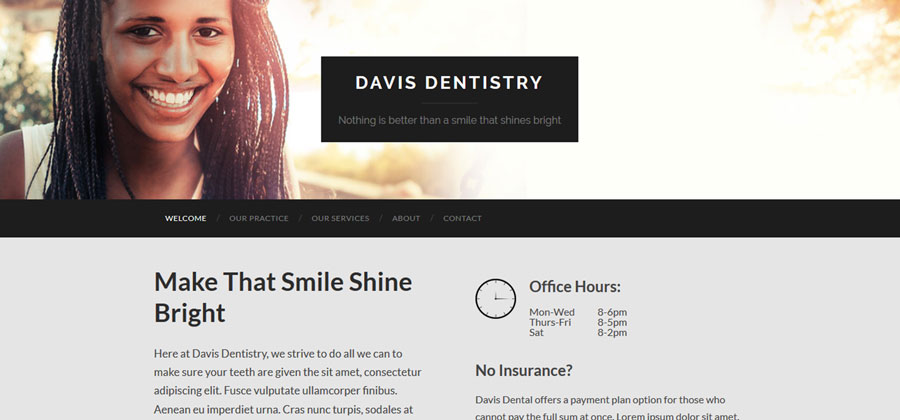 Davis Dentistry
This website was created by customizing an existing WordPress theme, not only through the CMS, but through editing the HTML and CSS code as well. Davis Dentistry is not a real company and therefore, if you like the design, we can turn this into your website. While we prefer to code from scratch, WordPress is cost-effective and offers a nice bonus for clients since it allows them to edit some of the text on web pages without having to mess around with code. We added the coin flip animation towards the bottom using CSS3. Davis Dentistry is 100% mobile- and tablet-friendly!
---
Rapscallion
Features:
Clean Modern Design
Customized Graphics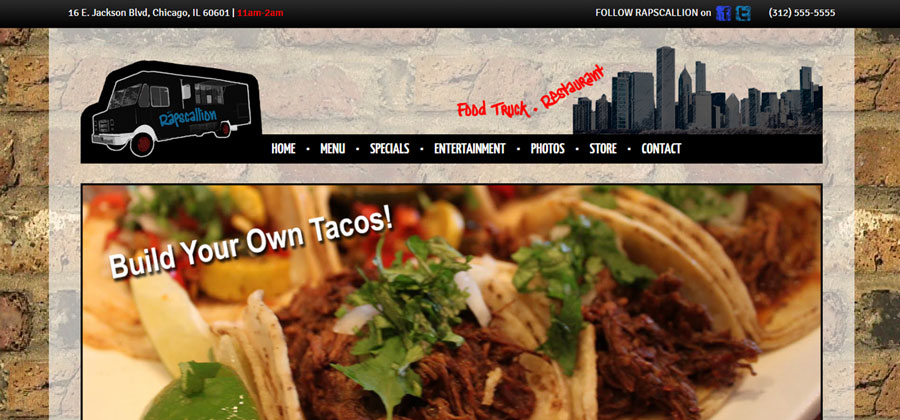 Rapscallion
Rapscallion was designed as sort of an experimental website that has a different vibe than others we have created in the past. It is not a full website as we really just wanted to focus on the homepage design of a restaurant-type business. It should be noted that the restaurant is not real. The logo and "Live Music" graphics were created by us to fit with the theme. The website was coded from scratch.
---
Original Template Design
Features:
Responsive Design
Javascript Navigation Menu
"Magic" Backgrounds
Elegant Design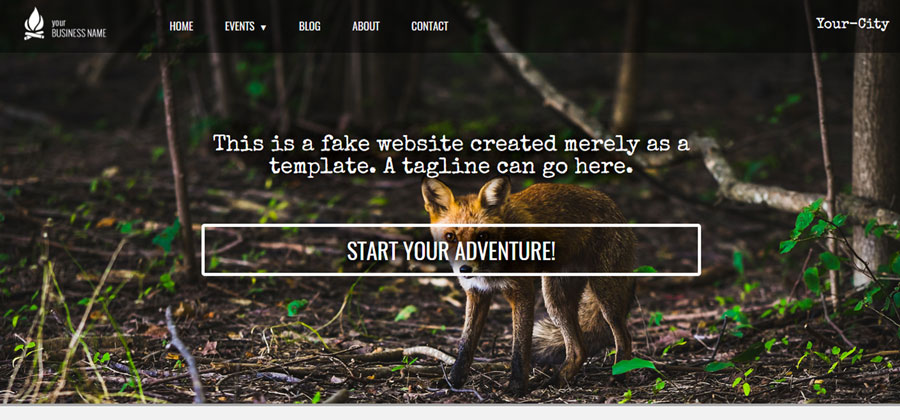 Original Template Design
Here we have a template created by us based on our very own website. If you like our website, you have the option of having us create your website based on this template. Of course, it can be tailored to your needs, adding and removing features that you choose. We wanted this design to have a clean, minimalistic appearance that would look sharp on any device. This template was built from scratch - anything you see can be replicated.